Plaza Project Update 4/22/2019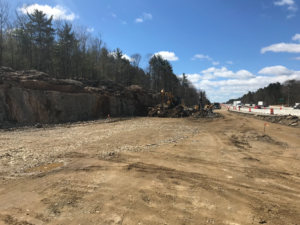 Contractor removing blasted ledge from the NB plaza approach
Contractor:    Reed & Reed, Inc.
Bid Amount: $ 39,484,431
Percent Complete last approved pay estimate:     11%
Project Schedule: Completion date June 21, 2021.
Project Update: Reed & Reed has completed blasting for the widening areas, the tunnel, and the toll building.  RJ Grondin continues to process blasted ledge for gravel to be used on site.  Pre-cast tunnel sections will be arriving by the end of April.  Contractor plans to install the tunnel sections as soon as they arrive on site.