Plaza Project Update – 2/19/21
Contractor:    Reed & Reed, Inc.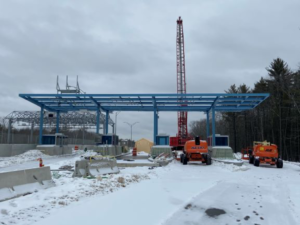 Bid Amount: $ 39,484,431
Percent Complete last approved pay estimate: 80.3 %
Project Schedule: Completion date June 21, 2021.
Contractor Schedule: Reed & Reed's crews continue to work on median concrete barrier, toll booths, highway lighting, and tunnel electrical work. Many highway sign foundations have been installed and will continue to be installed as weather allows. The earth work sub-contractor has mobilized off the site until spring weather arrives. Mechanical contractors are up fitting the booths with heat and air conditioning and are also running service lines to these systems as well from the controls inside the tunnel. TransCore, the tolling contractor, has been installing pieces of the tolling system alongside Reed & Reed electricians as they make progress towards integrating and completing the electrical and tolling systems. Over the winter months Reed & Reed's crews and sub-contractors will continue placing concrete around the new toll booths, building the canopies, installing conduits, wiring, lighting, and highway signs. Once warmer weather arrives, crews will shift to finishing the remaining earthwork in preparation for paving the cash lanes.